Restaurant and Saloon
Beaver Meadows' Restaurant & Saloon is born out of a 1948 log ranch home. The restaurant, will full service bar, features a wide variety of menu selections for breakfast, lunch and dinner. The atmosphere is enhanced by the stone fireplace that reaches from the hardwood floor to the open beam ceiling.
Overnight Lodging
A variety of overnight accommodations are offered. There are lodge units, log cottages, a family cabin and condominiums. All units come standard with coffee makers, microwaves and satellite television. The Lodge at the ranch is a two-level building situated to overlook Little Bear Island, the meadows and fishing ponds. Upper units are equipped with wood burning fireplaces, mini-refrigerators and decks. Lower units are equipped with patios. Our three, rustic 1950's built log cottages are set on the hillside overlooking our beautiful river valley and all come with full bath and satellite television. Select cottages have kitchenette, refrigerator, microwave and decks. Tucked back in the woods, our JP Family Cabin is a single level consisting of a full kitchen, living room, dining room with wood burning fireplace and satellite television and a ¾ wrap around deck. The Beaver Meadows' Condominiums are located at the center of the base facilities and each have a full kitchen, dining room, living room with wood burning fireplace and a deck.  For more detailed information, please click here to visit Beaver Meadows Resort Ranch's website! 
Fishing
Located on the renowned North Fork of the Poudre River, we are an angler's paradise. In addition to the naturally established population of brown and brook trout, we stock catchable size rainbow trout annually. Beaver Meadows Resort Ranch features three improved fishing/casting ponds that are mere footsteps from our restaurant and overnight accommodations. They are ideal for the novice angler and a joy to the seasoned angler due to the sheer abundance of trout that they hold. For the more adventurous, just a short trek from the base facilities places you amongst a maze of beaver ponds within whose willows is the home of the wild Colorado brook trout. These creatures are a beautiful and tasty prize for those with the patience and skill to stalk them. Beaver Meadows' Fishing Passes are required, along with a valid Colorado state fishing license, to fish our ponds, streams and river. Proceeds go towards stocking fish, patrolling, and stream improvement. Children aged 6 and under accompanied by a paying adult are FREE! Ask us about our fishing lessons and guided tours!
Hiking
Hike and explore our backyard. Whether it's a relaxed stroll around the ponds and through the meadow or a serious hike onto our 25-mile circuit trail system in the Roosevelt National Forest, there's something for what you're looking for. There is no charge for individuals to use our trails, regardless of whether you're a day or overnight guest. Recommended maps are National Geographic Topo Map #111 and the Roosevelt National Forest Map. Maps of our 25 mile trail system are available, free of charge, in the Beaver Meadows' Gift Shop.
Mountain Biking
Our 25-mile circuit trail system is also open to both day and overnight guests daily for mountain biking, free of charge. With beginner, intermediate and advanced trails, we offer something for everyone from the novice to the serious athlete. If you have your own bike, come on up! Recommended maps are National Geographic Topo Map #111 and the Roosevelt National Forest Map. Maps of our 25-mile trail system are available, free of charge, in the Beaver Meadows' Gift Shop. For your safety, please be sure to check-in and out at the Beaver Meadows' Gift Shop before and after your ride.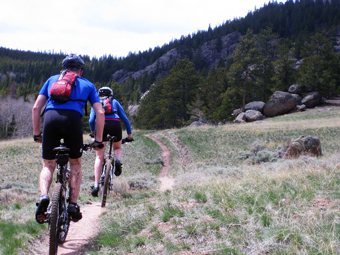 Paddle Boats
A sure favorite for all ages. Escape the heat by day or enjoy the evening sunset paddle boating in our hour-glass shaped ponds. Life jackets are provided. Each paddle boat can seat up to four people.
Snow Tubing
If you like to sled, you'll love snow tubing! It's one of the fastest growing winter sports in America because everyone can do it! Just hop in the tube and hook on the rope tow that will take you to the top. Kids of all ages (and yes, adults too!) enjoy this activity. Choose from our two 'Straight Shot' runs or try out our two re-furbished 'Crazy Curvy' runs.  Beaver Meadows will be one winter attraction you won't want to miss!
Snow Boarding
Who hasn't enjoyed snow boarding after a fresh snow? Come and check-out our new half pipe for snowboarders! And, our lift will bring you back up to the top.
Ice Skating
Beaver Meadows Resort Ranch has two large outdoor ice skating ponds. Children of all ages (and yes, adults too!) can relate to the simplicity of ice skating in the open air. The restaurant overlooks the ice skating ponds and is an ideal location to sip on a hot drink while watching the kids on the ice.
Ice Fishing
We dedicate on side of our hourglass shaped ponds just for the winter angler. In additional to the native brown and brook trout, we stock rainbow trout annually. Bring your augers or ice fishing equipment. At the end of the day, warm up to a bowl of hot chili and tell tales of the one that got away.
Snow Shoeing
For hundreds, perhaps thousands of years, people have used snow shoes out of necessity to hunt, travel, and socialize. Snow shoeing has been rediscovered and is an excellent winter activity for the whole family. Red Feather Snow Shoe's technology has made equipment lighter and burden free. Beaver Meadows Resort Ranch has well marked routes allowing you to explore the backwoods of Colorado. Keep your feet dry and traverse your way across the meadow, through aspen groves on an intimate journey between you and nature.
Cross Country Skiing
Wake up to virgin snow resting in the meadow, walk out your front door to our private Nordic ski trail system. Explore our Northern Colorado Rocky Mountain forest at your own pace. Relax along the peaceful North Fork River Trail listening to the winter stream or challenge yourself to complete the Cabin Creek-Powderhorn loop in record time. Cross country skiing is said to be one of the last affordable winter activities. Take a family winter vacation….for a minimal price a family of four can ski all day and grab a bite to eat. Cross country skiing is all about gliding, setting your own pace and challenging yourself to meet your own goals. The technique is similar to ice skating or roller-blading. All ability levels enjoy this winter sport.