We are currently closed and are enjoying a little break from the snow!

We will re-open in May 2015 depending on weather conditions.
Please call us if you need information or want to make reservations for the upcoming summer season!
(970)232-8326 OR (970)231-1955
We offer horse drawn sleigh rides and horseback rides in the winter.
We are open every day – call us to book your ride today!
Our Hot Chocolate & Cookie Sleigh Ride allows you to experience a real Colorado Rocky Mountain family adventure and is sure to get you into the Christmas spirit. Take a  sleigh ride through our meadow and private forested lanes out to our rustic Homestead Cabin where you'll warm up around the fire and help yourselves to cookies and hot chocolate while visiting with family and friends. We've even got a little craft table set up for the kids!  Groups up to 5 people enjoy our comfortable vis a vis sleighs, larger groups of up to 12 adults fit in our traditional bob sleigh. Event length 1+ hour.  $125/sleigh covers the first 4 people, $25 each additional). More information on our sleigh rides page or rates page.
Our winter horse rides include a warm up stop at our homestead cabin where you can enjoy cookies and hot cocoa at the fire before heading back to the stables. 1.25 hour event. $135 minimum covers the first 3 people, $45 each additional.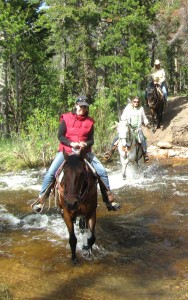 About Beaver Meadows Stables and why we are different:
We strive to offer you more than your regular "nose to tail" trail ride.
We ride in small groups (usually just your family or group and a guide) so we can accommodate your individual riding skills. Our stable is located at 8500 ft elevation right next to Roosevelt National Forest.
Our trail system consists of 20+ miles of scenic mountain trails into the Roosevelt National Forest including river crossings on rides 1.5h and up. We have a string of young, beautiful and well taken care of horses that we train ourselves and often even raised ourselves. Come ride with us and experience the difference!
Prices and Options
1 hour ride $39
1.5 hour ride $59,
2 hour ride $69
Longer rides available. See our rates page.
Burger or Steak Fry Ride (includes 2 hour ride plus cookout at our riverside picnic place) $79 and $95.
Horse drawn wagon rides and carriage rides start at $125/wagon includes first 4 people. Each additional person $25. Small children ride free.
Minimum 2 people per ride (except private rides or pony rides for small children)
For more detailed information about other stable services please see our rates page. Thank you!
We are open every day (weather permitting). Walk ins are welcome but reservations are recommended. $50 deposit required with your reservation.
Call us at (970)232-8326 OR (970)231-1955. Thank you!
Cancellation policy: Deposits are non refundable unless WE have to cancel your reservation due to bad weather or other adverse circumstances.
Date and time changes are allowed 24 – 48 hours (for meal rides)  before your event time. Large Group reservations may have different reservation and cancellation agreements.
We are located right next to the Beaver Meadows Resort for Restaurant, Lodging, Fishing, Frisbee Golf and more!
We are an equal opportunity employer and provider authorized by special use permit on the Roosevelt National Forest
Leave a comment