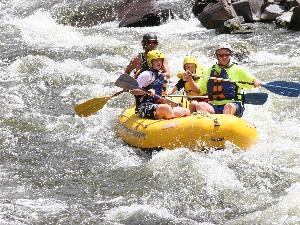 We now offer a fun package with Mountain Whitewater Descent.
Make the most of your vacation days and get great gifts for booking your raft trip and your horse back ride on one day.
Paddles & Saddles
Join Mountain Whitewater Descents and The Beaver Meadows Stable for this quintessential Colorado experience. Whitewater rafting and horseback riding are two activities that should not be missed on your trip to Colorado.
This package includes a half-day, AM Plunge, whitewater rafting trip with Mountain Whitewater Descents, all of your rafting equipment including wetsuit, gloves & booties, a Mountain Whitewater Descents t-shirt, and a 2 hour-day horseback trail ride with Beaver Meadows Stables.
Price: $169 per person
Meeting Times: 8am for Rafting Trip @ MWD, 2pm for Trail Ride @ The Stables at Beaver Meadows or 4pm for Dinner Ride @ The Stables at Beaver Meadows.