We offer guided horseback rides into the Roosevelt National Forest. 
We will open for the 2023 season on March 10 2023.
Availability depends on weather as we still have some winter ahead of us:)
Please call or text for information: (970)232-8326
Thank you!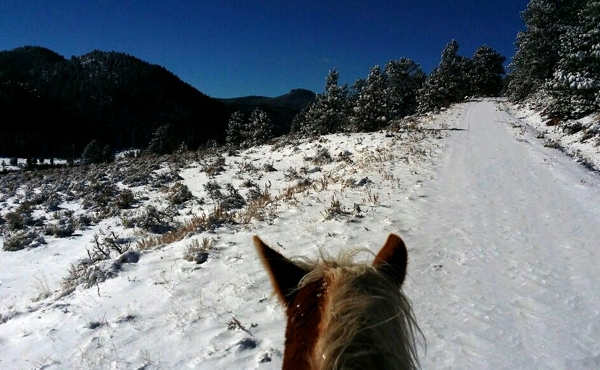 Why we are different:
We strive to offer you more than your regular "nose to tail", large group trail ride.
We ride in small groups (usually just your family or group and a guide) so we can accommodate your individual riding skills. That includes going faster than a walk at times, if everybody in your group is comfortable with that.
We have a string of beautiful and well taken care of horses that we train ourselves and often even raised ourselves. Come ride with us and experience the difference!
Our stable is located at 8500 ft elevation right next to Roosevelt National Forest.
Our trail system consists of 20+ miles of scenic mountain trails into the Roosevelt National Forest including river crossings on rides 1.5h and up.
Prices and Options
JUNE WEEKDAY SPECIAL: 10% off all groups of 4 or more people. (Mon-Fri)
1 hour ride $65
1.5 hour ride $89 (includes river crossing – weather permitting)
2 hour ride $109 (includes river crossing- weather permitting)
Longer rides available. See our rates page.
Minimum 2 people per ride.
Private rides for one person $95/hour
self led pony rides for small children $30/half hour
For more detailed information about other stable services please see our rates page. Thank you!
Age limit: We don't have an age limit! We recommend for children to be 4 years old to go on a trail ride. Children can be led behind the guide's horse if they wish. Pony rides are typically for children between 2-6.
Weight limit: Current Weight limit is 200lbs.
We do not allow double riding.
We are open every day (weather permitting). Walk ins are welcome but reservations are recommended. $50 deposit required with your reservation.
Call us at (970)232-8326. Thank you!
Cancellation policy: Deposits are non refundable unless WE have to cancel your reservation due to bad weather or other adverse circumstances.
Date and time changes are allowed 24 – 48 hours (for meal rides)  before your event time. Large Group reservations may have different reservation and cancellation agreements.
We are located right next to the Beaver Meadows Resort for Restaurant, Lodging, Fishing, Frisbee Golf and more!
We are an equal opportunity employer and provider authorized by special use permit on the Roosevelt National Forest
Leave a comment