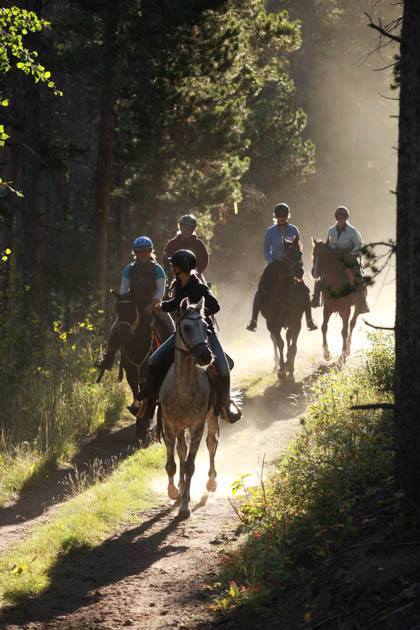 Thank you everybody, who came last year and helped us make our second year a great success!!
There will be a 25/30 and a 50 mile ride every day on 3 days August 25th, 26th & 27th of 2017.
NEW: there is also a Fun Ride on every day of the ride (includes meals). Please use the ride entry form below for that as well.
Located at Beaver Meadows Resort Ranch
Camping: Camping is on the Beaver Meadows Resort's Campground. It is all dry camping (no hookups) but close to the river. There are a limited number of horse corrals available in the campground. You can reserve those corrals and sites for an extra fee of $15/corral/night. We will assign campsites on the ride weekend.  All camping is within a half a mile to a mile of the vet check.
Certified Hay is NOT required.
Lodging: The Beaver Meadows Resort Ranch offers a wide variety of lodging. All lodging is approximately 1 mile away from the vet check. Please check out the lodging opportunities directly at www.beavermeadows.com or call (970)881-2450. We rent horse corrals at the stables (1 mile from the vet check) to go along with the rooms. Call Clara (970)232-8326 to rent a corral.
Trails: Ride is on Roosevelt National Forest and on private property. Vet check elevation is 8500 ft. All vet checks are in camp. Trails will go up to 10,000 ft. We have a mix of rocky and very technical terrain and some dirt roads and flatter spots that will allow you to go fast. There are lots of creek crossings along all the trails. Shoes or protective boots are necessary. The ground is mostly granite, which is extremely abrasive and will wear your horses feet off in no time! Trails will be more or less the same as 2016.
We will have a nice variety in the trails from day to day..
Please send us your pre-entry. Pre entries are not required though!  All checks only cashed after the ride.
Meals are provided with ride entry.